Dental Checkups in Bowling Green, KY
Making a Difference — One Smile At A Time

Visit the dentist who brings heart to modern dental care.
Dental exams are a crucial part of routine dental maintenance, as they help identify oral health problems early in time. They also aid in avoiding expensive dental procedures, tooth decay, and gum disease. As your family dentist in Bowling Green, KY, Dr. Cox at Cox Family Dentistry wants to help you achieve a healthy and beautiful smile for years to come.
Overview of Dental Checkups
A dental exam, also known as an oral or dental checkup, refers to a complete evaluation of your gums, teeth, and surrounding tissue. It usually begins with your dentist inquiring about your current health status and medical history. After that, they will perform a visual exam of your teeth, gums, and surrounding tissue using a unique device known as an explorer. They will check the gum line for signs of gum recession, stains, decay, and existing margins along crowns or fillings.
Why Do I Need a Dental Exam?
As a preventive care service, during your regular visits, your dentist will perform a dental exam, among other procedures, which will help them detect any oral health issues early and take immediate action to treat them. Likewise, they will advise you on properly caring for your teeth. This will enhance your smile, save you money, and help with your long-term oral health and hygiene. 
How Often Should I Get a Dental Exam?
It is recommended that children and adults visit their dentist twice yearly for dental examinations. However, people suffering from gingivitis (bleeding and swollen gums) and other gum conditions should book an appointment with their dentist more often. Those with more severe conditions, like periodontitis, may have to visit the dentist at least three or four times yearly. 
Benefits of Regular Oral Exams
As mentioned earlier, visiting your dentist regularly for your oral exams plays a vital role in the proper maintenance of your teeth and gums. It helps stay on top of your oral health to ensure everything works optimally. Regular oral exams also guarantee fresher breath, whiter teeth, healthy gums, and slow progression of tooth decay and other oral health issues.
How Long Does a Dental Exam Take?
Generally, a routine dental exam takes anywhere between 45 minutes to 1 hour. However, it depends on the age, frequency of dental visits, and overall dental health of the patient.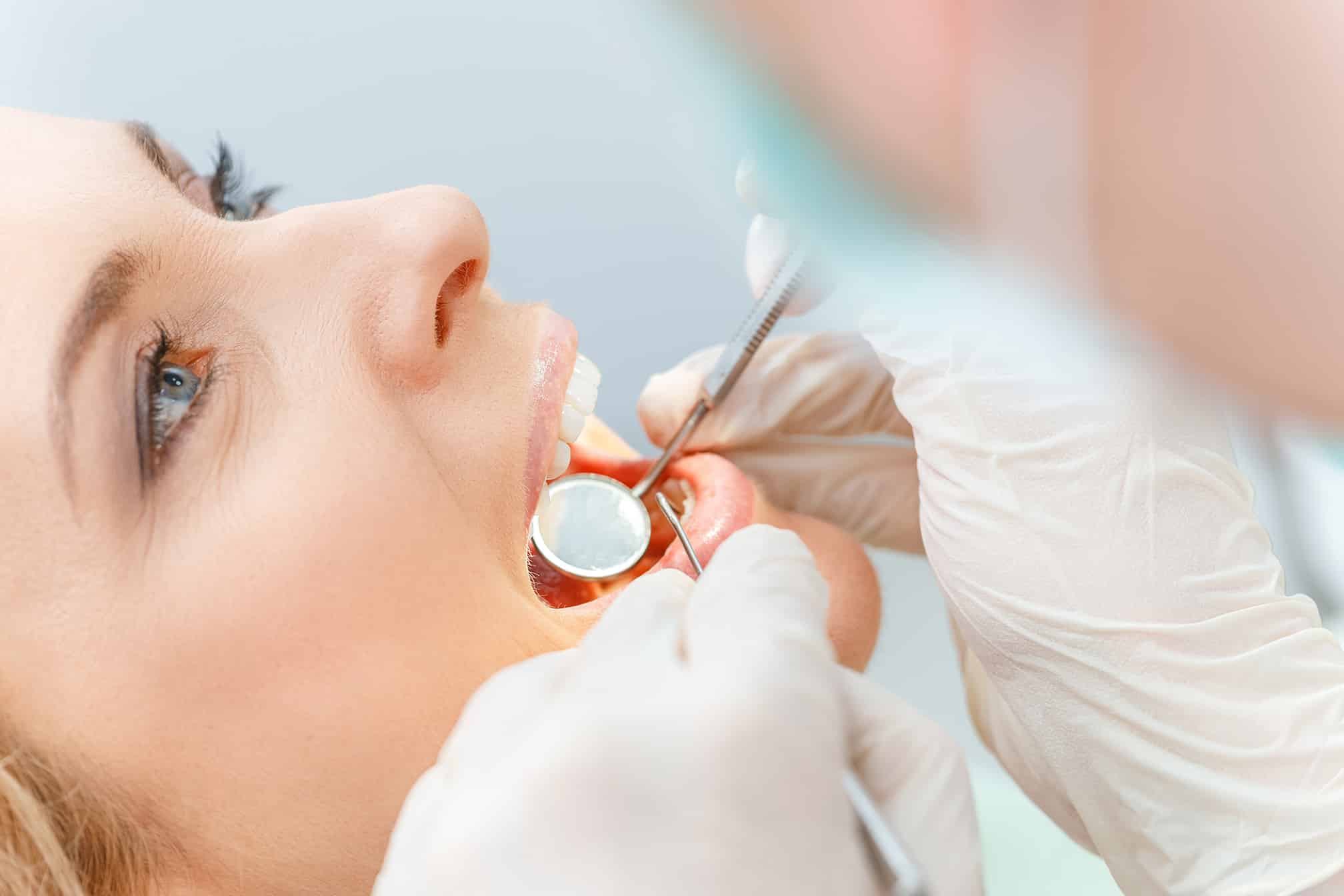 What Happens at a Routine Dental Exam?
During a dental checkup, your dentist will use an explorer to individually assess your teeth to see if there are any signs of oral health issues. In some cases, they may take dental x-rays, which are more effective in evaluating your teeth, gums, joints, and other surrounding tissues. As a result, this assists them in noticing gum disease, bone loss, cavities, and other conditions that cannot be seen with the bare eye.
Once the visual assessment is done and the x-rays are out, your dentist will analyze the results to determine whether there are any underlying oral health issues. For instance, they will check if your teeth and gums are healthy and if you have a bite problem or signs of oral cancer on the floor and roof of the mouth, sides of the tongue, under the jaw, and inside the lips. 
If any oral health problems are evident, your dentist will provide the correct diagnosis and treatment for the best results. Oral cancer screenings at your dentist's office involve checking for discoloration and lesions. If any are found, they may refer you for further assessment by an oral surgeon.
Dental Exam Cost
The price of dental exams usually ranges between $60 to $350 if you include cleaning procedures and x-rays. If you have dental insurance, it normally covers routine dental visits, which often include dental exams. Although some dental insurance does not include oral cancer screenings, you may ask your dentist to verify that information from your insurance provider on your behalf. 
Schedule a Dental Checkup at Cox Family Dentistry
Regular dental exams play a vital role in your overall health and well-being. It helps you maintain healthy teeth and gums while keeping severe oral health conditions at bay. If you are ready to go for your next dental exam and live in Bowling Green, KY, visit Cox Family Dentistry to enjoy its wide range of exceptional dental services, including dental exams. Our team of professionals, led by Dr. Kevin Cox, DMD, has years of experience; contact us today to schedule your next appointment!